Years ago, I was asked to speak at a local elementary school for "Career Day."
I was speaking to a group of 1st graders and I was following an Air Force recruiter decked out in sharp-looking dress blues. I walk in wearing a nice fitness outfit of shorts and a sweat-wicking t-shirt. Within moments of beginning to speak to the students about working fitness, a girl in the back put up her hand. I called on her.
With a quizzical look on her face, she said "You dress like my dad on the weekends." I laughed, the teacher got slightly embarrassed, and a few of the other kids expressed agreement.
It was then that I realized one of the side benefits of working in fitness. You get to dress in comfortable yet functional gear all day long.
I am always on the lookout for reasonably-priced, sharp-looking, and technically functional fitness gear. I tried the Core Fit joggers from
Born Tough in a unique color I have not seen before: "Lunar Rock." (As an astronomy major, the moon reference drew me in as well. 😉 They also make clothing for MMA fighters, but the Born Tough line is a better fit for me as a fitness enthusiast.
Here's what I loved:

The side pockets! I am calling them "posture pockets" (see below)
They fit well and are form fitting without being too snug and no baggy areas (baggy pants are for guys with no leg muscle.)
Just the right amount of give when you move and exercise in them.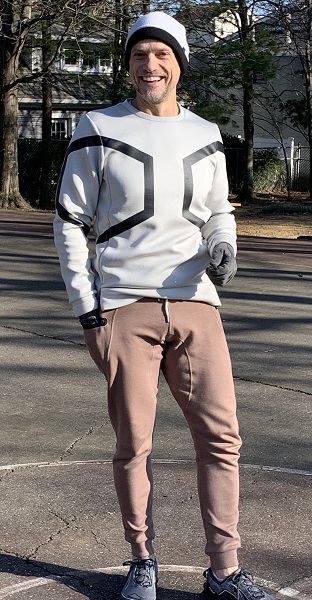 I really love those "posture pockets." Pockets are normally positioned on the front, which, if you stop to think about it, is terrible for our posture since it turns our arms and shoulders in and forward. Side pockets are typically very low on the thigh and as a result you get beat to death by anything in your pockets. Not so with the Core Fit jogger pockets. They are high enough to fit your hands comfortably inside.